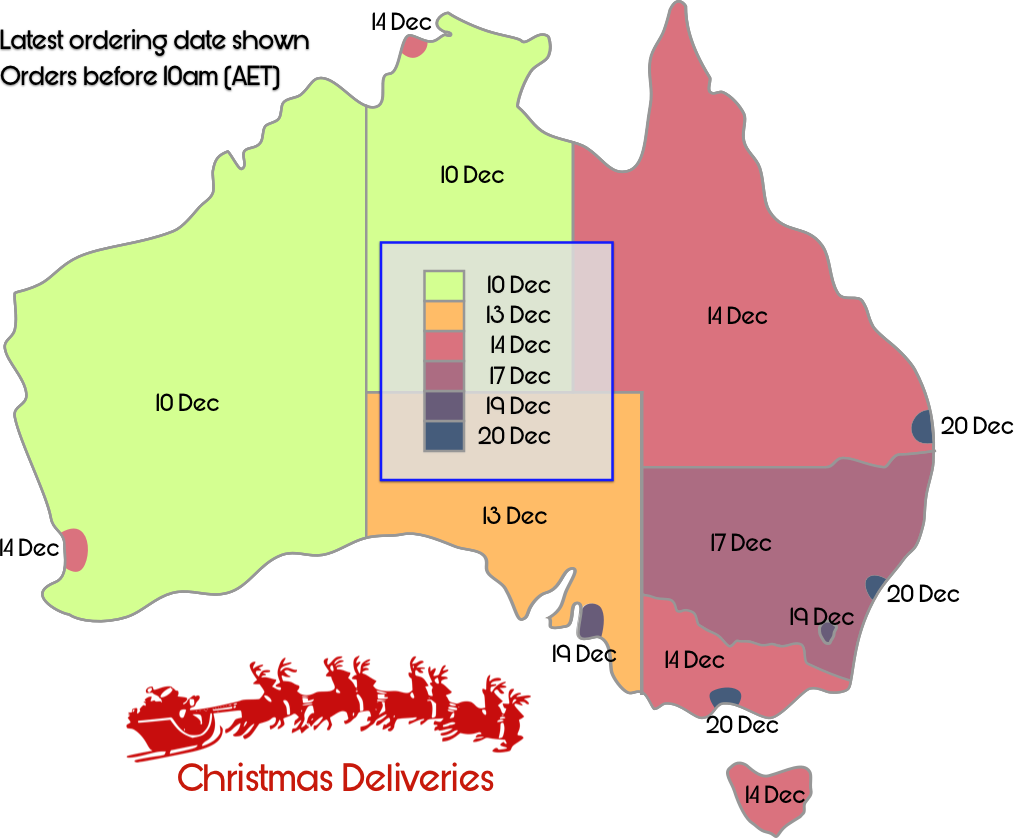 The map above shows the cutoff dates for ordering in order to receive your goods before Christmas. These dates have been provided by our couriers and are not guaranteed by us, so we recommend you don't leave it to the last minute, rather give yourself another day or more to be more certain you'll receive your goods in time.
LAST DATE TO ORDER BY 10AM
IN ORDER TO GET YOUR GOODS BY CHRISTMAS
10 Dec: WA Country, NT Country
13 Dec: SA Country
14 Dec: Perth, QLD Country and North, VIC Country, TAS
17 Dec: NSW Country
19 Dec: Adelaide, Canberra
20 Dec: Melbourne, Brisbane, Sydney
We will continue to operate during the Christmas and New Years period, so if your orders are not urgent then you can order any time knowing that we will be shipping orders throughout the holiday season except on weekends and public holidays. You should allow a few extra days during this time of year.
Warehouse During Christmas and New Years
Monday 24 Dec: OPEN
Tuesday 25 Dec: CLOSED
Wednesday 26 Dec: CLOSED
Thursday 27 Dec: OPEN
Friday 28 Dec: OPEN
Monday 31 Dec: OPEN
Tuesday 1 Jan: CLOSED
Wednesday 2 Jan: OPEN