SPECIAL OFFER

GET 20% OFF your first order
with coupon code:
FIRST20
ConfidenceClub Premium Adult Pullups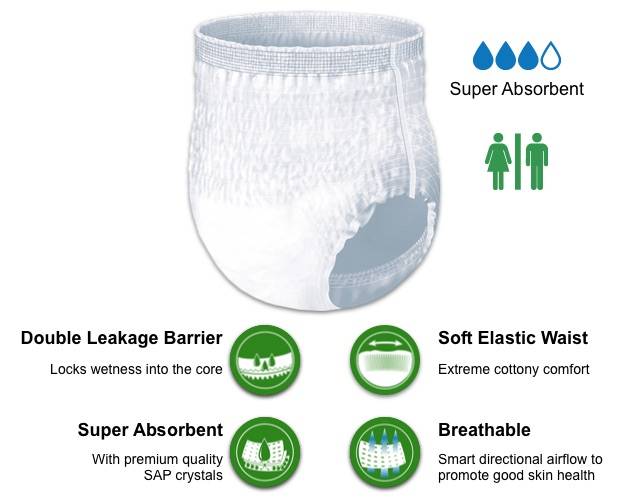 These are premium comfort adult pullups that support an active lifestyle while providing all day and night confidence. They are anatomically designed to fit and feel like regular underwear, yet still have the capacity to absorb moderate to heavy leakage.
Your confidentiality is guaranteed with all orders delivered to your home in discreet packaging.
We are so certain you will not be disappointed that we offer a risk-free 100% money back guarantee.
SMALL
MEDIUM
LARGE

Women: Dress sizes 4 - 12

Men: Pants sizes 22 - 34"

Women: Dress sizes 10 - 20

Men: Pants sizes 28 - 46"

Women: Dress sizes 16 - 28

Men: Pants sizes 34 - 52"

Working capacity: 750mL

Capacity: > 1.0L

Working capacity: 850mL

Capacity: > 1.3L

Working capacity: 950mL

Capacity: > 1.5L
Extra-soft, elasticised waist for added comfort and flexibility - you won't feel like you're wearing anything
pH-neutral to reduce any risk of irritation
Breathable, cloth-like backsheet resulting in better skin health
Cotton-like top-sheet draws moisture away from skin
Odour control core to discreetly lock away any embarrassing odours
Unisex
Latex free
Lab-tested Core made from high quality Pulp and SAP which provides more absorbency, protection and dryness
Double anti-leak leg cuffs to increase containment
Discreet fit under clothing
For Daytime and Night-time use
Wetness indicator

" I am a Continence Nurse Practitioner and have been a Continence Advisor for over 25 years.
I have reviewed the performance of the continence supports provided through ConfidenceClub and am happy to recommend them.
They have good quality pads, pull up pants and all-in-one wraps. "
Dr Lorraine Dickson
Registered Nurse, Grad Cert Ad Ed & Trng, Grad Dip Nur (Cmm Hlth), MN, DN

We Sell The Full Range of Continence Management Supports
In addition to the most comfortable adult pullups in Australia, ConfidenceClub stocks a full range of great value all-in-one wraps, bladder leakage pads, guards for men, booster pads and chair and bed protectorsp